ARworks, as a Golden Sponsor of the Marketing on Tour (MoT) conference series has developed an easy to use application for the participants.
The app consist of two main parts – the program/venue info of the conference and a 3 dimensional AR plane flying around the user's office.
Link of the app:
App Store Link 
Google Play Link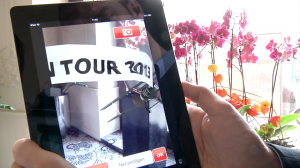 The MoT Application helps the guests and visitors to choose the suitable city out of the six event locations and also assists them to find the venue of the event by using the embedded map on their device. This practical app also provides information about the topics of the presentations and enables the users to get in direct contact with the speakers via LinkedIn. There is even an option to request the presentation materials from the speakers. The App also contains direct links to the homepages of the sponsors and the organiser company.
As an additional function the App also contains an Augmented Reality surprise a 3d animated aeroplane, which pulls a massage banner. This banner can be filled with a personalised message. The user can take a photo, showing the real camera picture mixed with the 3d animated aeroplane pulling the banner with the personalised massage. This picture can be shared on Facebook, or send to anyone by e-mail.
More on ARworks:
www.arworks.com