We prepared a unique, spectacular 360 panoramic video application using Virtual Reality for one of world's most famous hotel – for the Atlantis, the Palm in Dubai. Thanks to the app, anybody can easily have a quick insight into the wonders and experiences waiting for him in the hotel.
You just simply put a VR glass onto your head with your smartphone in it and the application will play a surrounding 360 immersive video which takes you through various spaces of the hotel.  After testing several Head Mound Displays Homido, Durovis, Samsung Gear and the Zeiss One, we choose the Zeiss device – it's the more flexible and at the same time looks really futuristic.
It worths to watch the 360 video – what we've shot during a 4 day session on the venue – several times since, as you move your head up, down, left and right, you can discover more and more details of the hotel.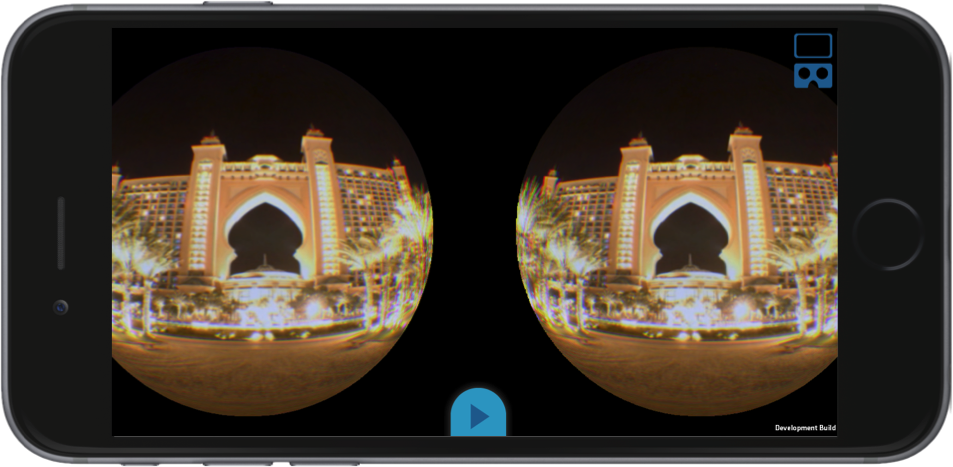 We walk through the main entrance and arrive into the lobby, where the magnificent Chihuly glass sculpture is waiting for us, then we're taken to the Royal Bridge, the biggest, 1000 sqm suite of the hotel. From its terrace, we can be amazed by the full 360 panorama of the city and the outdoor fountains under our feet. Then we find ourselves in the underwater Neptun suite – first in the bedroom then in the connected bathroom – to fell silent by the view of the huge sharks, stingrays and other fish swimming by our glass wall windows. Now with a quick cut, we're placed in the big tank and we can experience a few seconds of peacefull diving among the thousands of animals in the aquarium.  After that, we're arriving into the dolphin pool, just to see as they are playing and making fun of us. Our outdoor expericens are finished with an adrenalin rush in the aquaventure park – rides, slides, the vertical fall of  Leap of Faith and the giant barrel pooring tons of water on our head. From here, through a slide on a wirerope, we virtually arrive into the Nobu restaurant, and be part of the ritual preparation of a fine sushi performed by the chef of the restaurant. At the end we take a short night walk around the fountains in the garden, with the magnifique lights of the hotel in the background and say goodby to the hotel with a night lapse shot on the beach.

Because of the VR Glass, besides the normal one screen  360 panoramic video, there is a special, twin view in the app – this is the one, you have to choose when you put the app into a VR Glass.

This project is perfect example on how VR glasses and 360 video can be used to show places, environments, objects to potential target groups of services and products – without the necessity to take the actual product to the possible costumer or the the costumer to the product..

Other VR related news:
Novartis VR Project
Bluetooth Controller for VR
Street VR